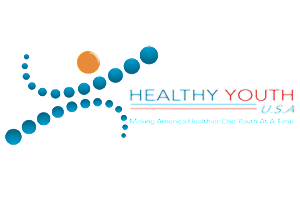 The Healthy Youth USA After School Program in Partnership with Global Ministries is currently offering 38 After School scholarships for The After School Club Program 2018 – 2019. Recipients will receive tuition assistance for a full calendar year beginning March 5, 2018 – Feb 28, 2019.
Students in need of scholarship assistance attending the following pickup school locations are encouraged to apply:
Dunwoody Springs Elementary; Dunwoody Elementary; Woodland Elementary; Ison Springs; Spalding Drive Elementary
After School Club – See Pick up locations above
Monday- Friday (following FCS school calendar) No school days full day camp may be available
Snack Time, Mandatory Homework, study Table time, Physical activities, games, free play, organized activities including performing arts, and Popcorn and movie on Fridays
After School Club Rates:
Regular Weekly Rate: $65 Scholarship Rate you can apply for $30
Registration fee: $50 per family
Payment late fee: $20 (tuition is due every Friday)
Pick up late fee: $20 (children are to be picked up by 6:30pm)
PLEASE READ DETAILS AND DOWNLOAD APPLICATION HERE
Please note regular attendance and proper behavior is required to maintain scholarship status. A child receiving a scholarship is expected to attend the After School Program at least four days per week. If attendance drops below four days a week, the scholarship eligibility will be revoked and givien to another student in need of full week. Additionally, recipients must adhere to the regulations, policies and procedures in the Healthy Youth USA After School Program Parent & Guardian Handbook. If the scholarship is revoked; you may elect to continue with the program at the regularly scheduled rate.
Please ensure all required documents are attached and all sections of the application are completed; incomplete applications will not be considered. Free/reduced lunch documentation and will also be verified by school. Please note scholarships will be reviewed and awarded based on availability of donation funds. Recipients will be selected according to financial need and merit. All applicants will be notified via email of application status by FEB 28, 2018.
Scholarship recipients will begin program Monday, March 5th, 2018.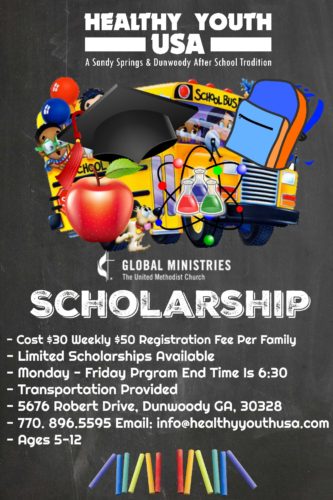 If you have any additional questions, please contact Charles Sharper at info@healthyyouthusa.com
Download application at www.healthyyouthusa.org. Please return application with all requested documents to Healthy Youth USA , located inside North Atlanta Enrichment Center, 5676 Roberts Drive, Dunwoody GA 30338. Open daily 2:00-6:30pm.
Complete application and return to Healthy Youth by Feb 28th.
Download Application here