GIRLS BASKETBALL CAMP – July 5-8, 2023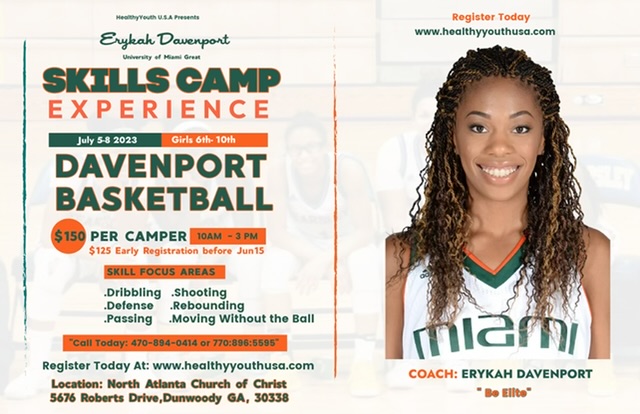 ---
Weekly Full Day Summer Camp Details
Click Box above for Summer Camp Registration
Regular Weekly Tuition $150 per week 9am-5:00pm Monday-Friday Beginning May 30
One Time Registration $50 paid during enrollment
Please remember that payments must be received every Friday for the following attendance weeks. There will be a $20 late fee charged if we receive payment on Monday of the same week your child will be attending.
During this summer, children must break a morning snack and a lunch. There will be an afternoon snack provided to your child. Breakfast is not provided.
Field Trips are apart of our summer camp program. There will be a small field trip fee to cover the weekly trips that include Skating, Swimming, Stone Mountain, World of Coke, The King Center, and other ATL City Tours.
Register today and be on the lookout for an email with all Summer Camp details.
Thank You for choosing Healthy Youth USA as your Summer Camp provider this year! We can't wait to have some fun.
Children can be dropped off no earlier than 9:00AM. Official camp instruction begins at 10:00am. Between 9-10:00am, children will enjoy movies and table games while everyone arrives.
Pick up is no later than 5:00PM. There is a $20 late fee penalty for children picked up after 5:15PM.
On select "wheels Day", Children can bring anything with wheels (i.e, bikes, skateboards, etc) as long as they bring a helmet. These items must be taken home daily. We will notify you the day before when this is ok.
It is mandatory campers to bring water bottles and MASK. We will engage in many activities both in and outside.
Healthy Youth USA
770-896-5595 – Direct Healthy Youth Line